What is the best time to post content on social media platforms in 2023?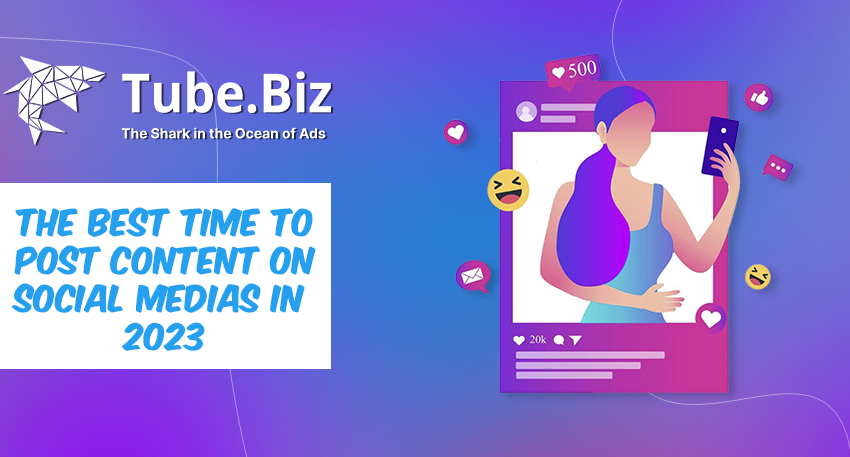 New Year brings us not only joy and big hopes for the next 365 days. The beginning of the year is always the time when people set goals, plan what they want to achieve and when, in other words - they come up with their own schedule for 2023.
Indeed, managing what should be done and in what deadlines - helps a lot in various spheres of our lives. The same thing works with social media posting.
Creators who've been working on their content and promoting it in past years know why it is key to come up with your own content plan and put as many details in it as you can. So coming up with a content plan for social media platforms is not an exception. In fact, there are certain times when the content is mostly checked, and a lot of things affect that. The main things are location and time.


LOCATION
Where people live makes up 50% of how you'd come up with a content plan. This element includes:
on what kind of territory people live in;
what information can be shared with them (being politically correct);
What kind of information will be 100% appealing to spark maximum interest from people;
What brings together people who live in that particular location, their interests and principles, etc.
TIME
Another element that influences the way a content plan is made, is time. Basically, it is a piece of information about when they are awake to check out new posts and news online. A considerable number of researches have been conducted by individuals and various companies to understand when it is the best time when the content is mostly viewed. When you know the most appropriate time for your target audience you:
Attract more traffic to your page;
Affect your content popularity gradually - it will become more visible as more people will be able to come across it;
Increase your sales as well and beat up your competitors online.
When to post on various social networks?


INSTAGRAM
According to statistics, for Instagram, the best days to post content are Tuesday, Wednesday, and Friday. Logically, people rarely check Instagram and spend a lot of their time on Monday and Thursday.
On Monday the vast majority of Instagram users mostly are into their work being done. People are busy and they simply do not have enough time to check what's going on online neither in the morning nor in the evening when being too tired. The same thing goes with Thursday. According to statistics people rarely log in to their Instagram accounts on that day to see what's going on.
The best time during the day when you should post your content on the platform is:
9:00 A.M.
9:30 A.M.
8:00 P.M.
FACEBOOK
On this platform, the best strategy for posting content is once in 2 days. So the best days of the week to post are:
The reason for that is determined by the fact of how Facebook is pursued by people. It is a fact that Facebook is considered to be a platform for people in the business sphere. It includes: bloggers, journalists, politicians, luxury brands, fashion figures, economists, and the list goes on. In comparison with Instagram (that is pursued more as an entertaining arena) Facebook is viewed as a more professional platform.
Facebook is not for everyday usage and the vast majority of people know it. The best way to check out what's going on on the platform, is to find out more information and receive the latest news. People check it once every 2 days. This way the received information will be exhaustive.
The best time to post on Facebook:
7:00 A.M.
3:00 P.M.
7:00 P.M.


TWITTER
Statistically, the best days to post content on Twitter and draw maximum attention to it are the last 3 days of the week. Researchers said that if you post on Wednesday - Friday you will be far more likely to become more noticeable on the platform and spark the interest of your potential followers to check our posts more frequently.
In fact, it seems that on Twitter nothing important is going on on Monday and Tuesday. These days people are too busy to check out their Twitter feeds. Try to post and let your followers get new information in the morning. The best time to post is from 8 A.M. to 10 A.M.
TIKTOK
The platform also has its periods of time when the users are very active. Surprisingly, Monday is one of the days when it is better to post content. It is because TikTok offers mostly entertaining content, even more entertaining that it is on Instagram.
Pretty often people open TikTok on Monday to boost their mood and see something fun before a long working day. The same thing goes with Tuesdays. Besides, Fridays are also the best days for TikTok creators as well - users await for the weekend and want to relax after a long week so they enter TikTok to find something fun.
The best time to post no TikTok is:
How to receive more recognition online?
Now that it is clear what is the best time to post content, more users will follow it and the value of content can be enormous. However, to avoid competition and even beat it there is a simple solution: get promotion services from SMM panels like Tube.Biz. With our SMM panel you'll be able to improve your social media image on any social media network including the ones mentioned above.
In fact, almost every social media platform has a system that analyzes suspicious activity online. One of the main policies of our website is transparency. If you buy promotion services for any social media platform from Tube.Biz your account won't be blocked and your posts won't be taken down. Tube.Biz offers only high quality services that comply with terms and conditions of social networks.
Don't hesitate and try some of our promotion services and beat up your competitors and social media algorithms:
Buy Instagram Packages - the prices are from $20.00 per package
Buy Instagram Followers - the prices are from $10 per 1000
Buy Facebook Subscribers - the prices are from $20.00 per 1000
Buy Facebook Live Stream Viewers - the prices are from $20.00 per 1000
Buy Twitter Followers - the prices are from $30.00 per 1000
Buy Twitter Retweets - the prices are from $50.00 per 1000
Buy TikTok Packages - the prices are from $15.00 per package