New Features of YouTube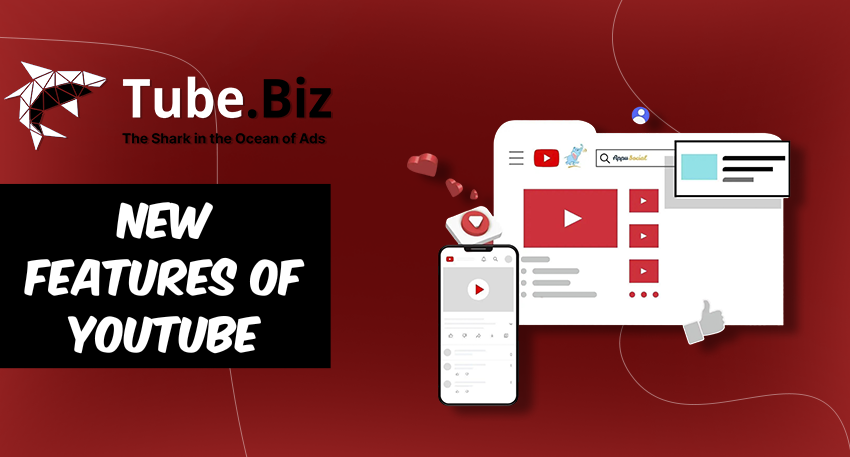 'YouTube hasn't been updated much these past months' - a lot of social media users say. The Internet is overflowing with news about new features of TikTok, Instagram and other popular social media platforms but no information was available about YouTube. However, the platform has a lot of new features that bring new user experiences.
What are the recent YouTube updates you might have missed?
Subscribe button
Now the buttons have a different design. The subscribe button, as well as other buttons, is more round now. Besides, YouTube also introduced new fonts for YouTube video titles.
Thumbnails
YouTube team also changed the way they look: now you can also see round edges ( as well as the buttons). In this case our advice is to pay attention to how your cover image looks to avoid adding lines as a border to make it look well-edited.
Video description
The way the video description looks was changed as well. When you expand the description of a video in detail you will see the video chapters that were added automatically, even if you didn't add time codes.
Playlist upgrade
Now you can see that the YouTube team added visuals to your playlists and now you have a cover video as an image for a playlist. You can zoom in on video from now on as well and watch any details that are important to you.
Separate tabs
YouTube now has new features: for YouTube Live Streams, Shorts, along with Home and Videos. In this case it will be easier for your target audience to find the content that they are looking for on your channel.
YouTube Shopping Store
Just like Instagram, YouTube now has its own store within the platform - YouTube Shopping Store. This will make products' promotion of different creators easier and more effective. For now they added the feature of creating more than 1 store for your YouTube profile and adding a new payment method within the platform.
YouTube Handle
Now you can change your name on YouTube and come up with the proper URL for your YouTube channel for better user experience and gaining trust among YouTube users. It works as a rebranding tool for your profile. With your new handle you will be able to make a statement on the platform and maintain your brand image and style on YouTube.
How can you boost your popularity on YouTube?
Now that YouTube introduced new features more people would like to keep themselves updated and even post more on the platform. New features always attract attention not only from users who have been using the platform for a long time now but also attract more people to join and experience all that.
Updates also mean that more and more people would post more content to boost their popularity now that more people are interested in seeing what the fuss is all about. How can you make your content become visible and not lose it between your competitors' content?
On Tube.Biz we have new services for you that will definitely help you improve your channel's performance and make a statement on YouTube:
-YouTube engagements BIG package (1000 SEO + 1000 Likes + 500 Shares + 100 Subscribers + 50 Comments)
This service was made to improve and increase the quality of interaction on your YouTube channel. With this package you get a chance to beat YouTube algorithms and attract more activity to your and so improve your channel's engagement rate. You receive likes, shares, comments and so subscribers, so you improve each one of your metrics and reach maximum results.
Another service that will make your content more visible on the platform and improve your ranking. Our SEO professionals analyze your videos and so promote your video by title, its description and tags that you already have. As a result with this service you will have a chance to appear at the TOP of YouTube searches.
Promoting your content on social media, especially on YouTube, can be puzzling and confusing. Liking other people's content on the platform, leaving likes and even subscribing to the channels very often is not enough and you rarely receive the same feedback. In this case a lot of users turn to get promotion services from trustworthy panels like Tube.Biz.
On our panel we offer thousands of different services that provide organic promotion and no bots or software activity. We have already promoted thousands of different accounts on YouTube and outside the platform on other social networks and our customers continue ordering from us. If you want to go viral on YouTube as well as on other platforms do not hesitate and try out our promotion services! Monetize your popularity now!
YouTube Likes - the prices are from $25.00 per 1000
YouTube Subscribers - the prices are from $50.00 per 1000
YouTube Views - the prices are from $2.48 per 1000