How famous bloggers became so popular?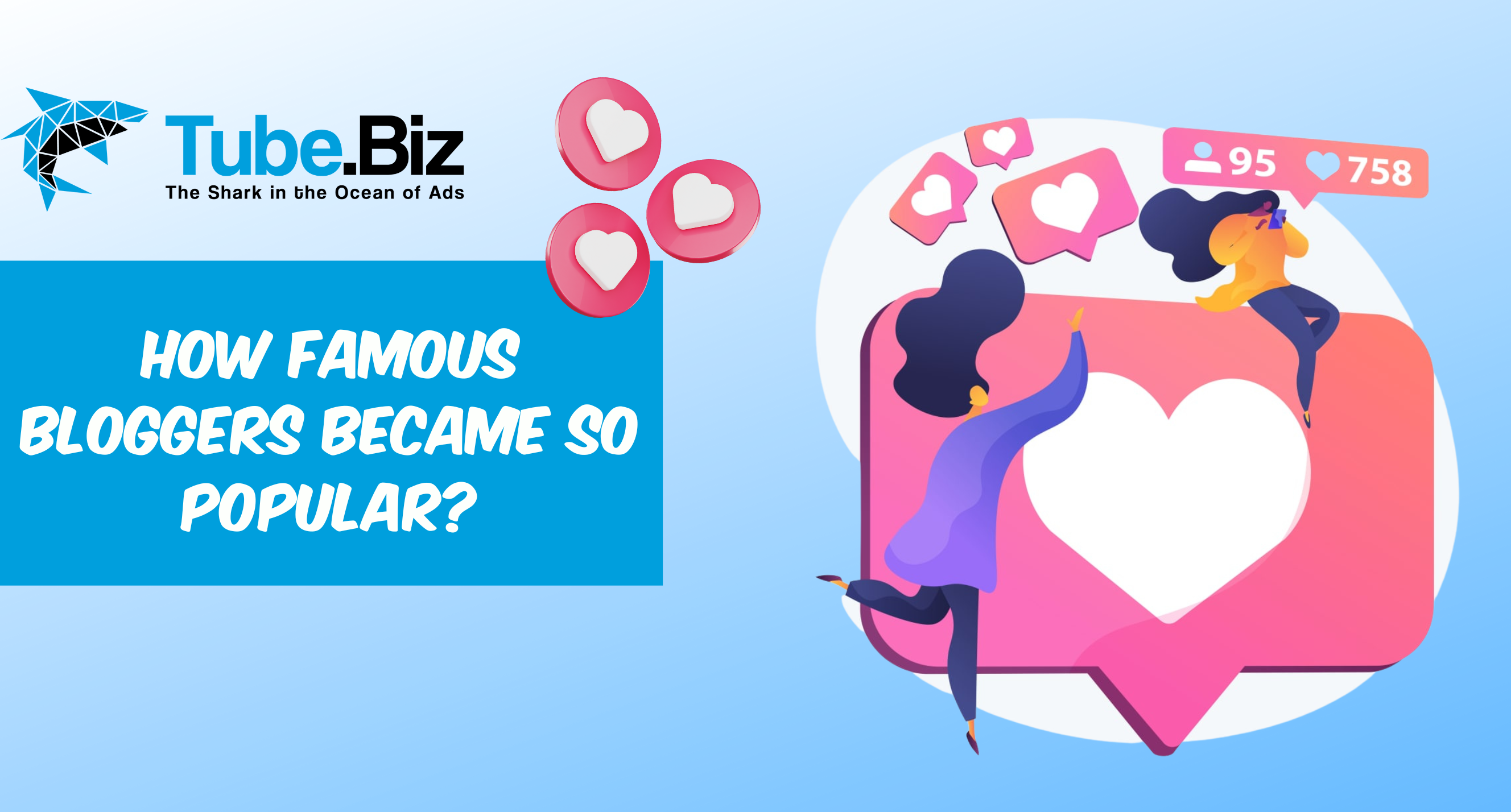 Blogging did not become popular right away but it has been developing since 1997. It all started with simple blogs that mostly included texts. After some time it then led to the expansion of blogging techniques on almost all popular social media platforms attracting even more people to join the platform and release their blogging potential.
According to statistics one of the most popular social networks that took blogging to a whole new level was YouTube. Since 2005 users have been uploading different types of content, they saw the potential of the platform and the opportunity to show other people how unique their content is by using their YouTube channels as a means of transmitting this idea.
Who are the top YouTubers and how did they reach popularity?
1.Mr.Beast
When it comes to crazy challenges that go viral the first name that comes into users' minds is Mr.Beast. Based in the USA Jimmy Donaldson has a considerable number of fans: 117M people. Recently he became even more popular, beating his rival Pewdiepie by 6 million users. Indeed, Jimmy is the most subscribed YouTuber.
What was his journey? Donaldson posted his first video in 2012 and ever since the number of viewers he got was reaching billions of people. The reason for his popularity is simple: he does activities that can arouse discussion, confusion, and, most importantly, interest. For example some of his top video titles:
-$456,000 Squid Game In Real Life!
-Last To Leave Circle Wins $500,000
-I Spent 50 Hours In Solitary Confinement
You can see that one of the key things he does is follow the trends. Besides, now Jimmy is considered to be the richest YouTuber in the world.
2.PewDiePie
It is hard to find someone who doesn't know to whom this channel belongs. The vast majority of YouTube users know Felix Kjellberg as a gamer who created his YouTube channel in 2010 and has been gaining popularity ever since. Now the number of his subscribers is considered to be prevailing among gamers and vloggers: more than 111M people keep themselves updated on his new posts.
How did the YouTuber reach such a massive audience? Let's not forget that channel's growth takes time and does not happen overnight. Gamer has been uploading his content on a special schedule, he created his channel's 'brand', besides, he played games that just have been gaining popularity (meaning he had only a few competitors), and, most importantly, he has always been real and open to his subscribers, interacted with them and created his own style of gaming and after vlogging.
3.Kids Diana Show
This channel can be hard to recognize as it is a kid's channel. Nevertheless, Diana (the main figure of the channel) is a strong competition for the guys. Her channel now includes more than 105M subscribers. It is truly a significant number of people.
The channel is not run only by the child but by her family members as well. All in all, the channel was created in 2015 and owns first place among all channels for kids leaving no space for the competitors to beat the channel's popularity. The main reason for her popularity: engaging and unique content for kids that works as a kid's TV, as well as different kinds of activities like singing, playing or learning something new.
4.Dude Perfect
'5 best buds just kickin' it.' - the idea of transmitting the main idea of the channel. Channel that involves 5 guys from Texas posting content involving sports and comedy videos has been 'kickin' it since 2009 when the first video was posted. It all started with several short videos of basketball trick shots and now it includes trick shots, swimming, fishing, archery, etc.
They gained popularity as they were the first ones who started uploading videos with tricks and doing sports in general, had it all nicely edited and so attracted attention to their channel. It became successful as they also created their own style: they mix sports and humour which finds appealing in the vast majority of YouTube users.
What can you do to reach success?
1.Posting schedule
Post your content consistently like YouTubers we analysed above. They became successful as they came up with their own content plan and uploaded their videos accordingly. Show your subscribers how much you value their time, come up with your own posting schedule and tell them that, for example, your videos will come up every Tuesday and Saturday and you will see how many people will watch your content.
2.Other platforms will help
Don't hesitate and use other platforms as tools for YouTube promotion and let more people know about your content. Almost 98% of YouTube users are active on other popular social networks so it is highly advisable to use this unique opportunity to expose your content to more people and make it go viral.
3.Interaction is all it takes
By the example of the popular YouTubers we discussed above it can be clearly seen that engaging with subscribers and potential viewers is 80% of your success. Being socially active, replying to users' comments and interacting with them can make a great difference. It will show people that you care about their opinion and feedback is welcomed, moreover, it will help you focus on your weaknesses and improve them. So do not hesitate and let your target audience know that you value them.
4.Get YouTube promotion services from sources online
To save your time on marketing and promoting your content on your own consider choosing a relevant SMM panel and get a promotional service that will boost your profile activity and popularity. This way you will have more time to focus on things that matter: the quality of your video, content plan and improve your interaction with your audience while at the same time you will get your YouTube channel promoted and become more visible. On Tube.Biz we help users to do that.
Popularity does not come right away, it is a long-term process that involves looking for the proper promotion technique and growing organically according to it. No matter whether your YouTube channel is new, there are only several things you should pay attention to: interaction, your own style, editing tools, and your social presence. When you pay attention to these elements you'll easily gain recognition among more users, and your content will finally receive the recognition it deserves.
For faster and quality promotion choose our services and your content visibility will be guaranteed. For organic YouTube promotion try:
Buy YouTube Likes - the prices are from $25.00 per 1000
Buy YouTube Subscribers - the prices are from $50.00 per 1000
Buy YouTube Views - the prices are from $6.00 per 1000
Buy YouTube Comments - the prices are from $50.00 per 1000