Best practices for promoting your YouTube channel on other social media platforms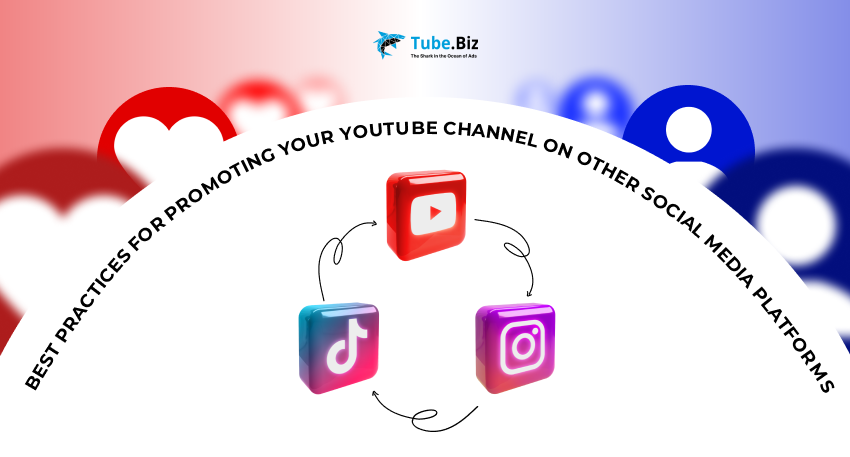 There are only several social media platforms that will always be the leading ones when it comes to posting creative content. The key role is played by YouTube. Why? YouTube remains a #1 platform because of:
massive user base;
vast selection of content and topics to browse;
YouTube's designed features for easier search and video watching;
platform's advertising opportunities (reaching broader audiences);
strong community of users and influencers who can help promote a product or service.
More to that, around 3 billion users have been active on YouTube in 2022 (activity per month) and the number is still growing. Besides, YouTube has been pretty serious about its updates: YouTube Study Hall, new user-friendly interface and features, etc. Seems like the YouTube team pays more attention to sponsor creators and look for new ones who can take the platform to the next level.
What is the secret of channel promotion?
The secret of a YouTube channel promotion is to come up with appealing videos and share engaging content with your potential viewers. Creators also focus on marketing tools such as:
promoting specials;
different competitions;
giveaways.
Some of the users promote their content via YouTube advertisement, however, these users already have a solid base of viewers. In this case also no one can't deny how important SEO tools really are. By using them creators have a unique chance to increase the visibility of their channel online and rank their channel higher in search results.
The #1 advice from YouTubers for beginners to start gaining popularity is to focus on building a strong and loyal fan-base or collaborate with other YouTubers to reach wider audiences. What viewers are usually driven by when they subscribe to a particular channel is its style and unique way of presenting information, in other words 'style'.
How to promote YouTube videos?
In general to promote your YouTube channel on other social media platforms, you'll need to do two key things:
Choose on which platform you will promote your YouTube content;
Which promotion technique to choose according to the features of a chosen platform.
Generally, you need to post regularly on those platforms and engage with the other users. One of the things that are at the top of the 'to do list' is to create interesting and engaging content for your audience by actually analyzing relevant details about your viewers. How actually you can let more people know about your content will depend on the platform you choose. There are two of them that creators use for YouTube content: TikTok and Instagram. You can use paid promotion Youtube but the best practice for promoting your YouTube channel is using other social media platforms.
INSTAGRAM
To promote your YouTube content using Instagram focus on several things. It is highly advisable to use stories in case of promoting your YouTube channel. It is very easy to do. All you have to add in your stories is an intriguing short text about your new video, the link (it is all possible to do whilst editing the story). Also, promote YouTube videos by posting a short preview of your video and generate interest from your Instagram followers to check your YouTube channel as well. In addition, to generate more activity use Instagram 'polls' about your YouTube content.
Post small parts of your YouTube video to your Instagram profile to make an announcement of new content. Use relevant hashtags to increase the visibility of your content on Instagram. Besides, what some creators do is post funny moments or outtakes of their videos to make viewers look what is up in the new videos in an Instagram post. What else you can do: add your YouTube channel's link to your Instagram bio to let more people know that you have it and so expose your content to wider audiences.
TIKTOK
What about how you can make your YouTube content visible using TikTok? Some of the tips are similar to the ones that work on Instagram. What you can do is:
1. Add your channel's link to your TikTok - as on Instagram it will perfectly work to make more users check your YouTube videos as well and engage with your content there;
2. Post short video on TikTok - this way you let your viewers see a little bit of you content, increase the number of viewers and so the number of your channel's subscribers, use them as a small trailer;
3. SEO tools and tagging - when you announce your videos via TikTok content do not forget about correct hashtags to let more people know more about your YouTube channel. The more proper tags you use the more people would come across your videos and so generate more activity on the platform.
In addition, more and more users start to use other social media platforms for channel promotion. Unfortunately, this can indeed change the way users perceive your channel and improve its overall performance.
Buying promotion from online sources is another life hack. Some YouTube users are skeptical of this kind of promotion, however, buying these services for TikTok, getting Instagram promotion and YouTube profiles is a widespread practice as creators get a lot of benefits.
The thing that users should consider is an online source where creators buy YouTube promotion services and generate more engagement. A lot of YouTubers get the services and receive instant promotion in just a few clicks. On Tube.Biz you can find thousands of services for almost any social media platform. We provide the most effective YouTube, Instagram and TikTok services you can:
Our services were already ordered by thousands of social media users who have already improved their social image making their profiles more visible. Do not hesitate to promote YouTube video and go viral with our effective services!